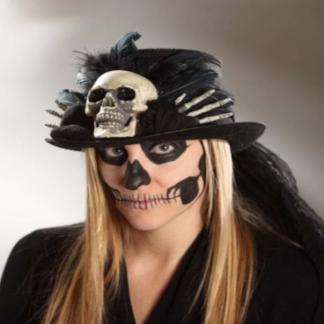 Bethany Lowe
Bethany Lowe Halloween Voodoo Skull Top Hat Skeleton RL4715
Bethany Lowe Halloween Voodoo Skull Top Hat Skeleton RL4715
$48.50
Take your costume over the top, or wear the Voodoo Skeleton Skull Top Hat all by itself.
No matter which you choose, you're destined to create a hauntingly sophisticated impression at your next Halloween party.
Devilishly unique, the hat is made of felt, has glitter detail in the skull's eyes, skeleton hands, black feathers, and gauze detail.
A beautiful step beyond what you might encounter at a party store.
Overall the hat measures 6" T x 10" W x 12" D.
The circumference of the interior of the hat is approximately 23", closest resembling a size Large.