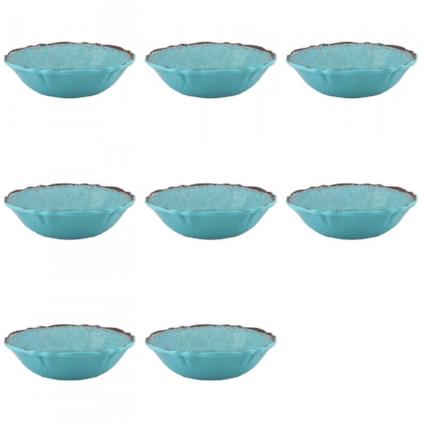 Le Cadeaux
Antiqua Turquoise Cereal Bowls Set 243ATQT
810266022803 243ATQT Le Cadeaux Antiqua Turquoise Cereal Bowls Set
$76.00
Beautiful Antiqua Turquoise Cereal Bowls.  Each bowl is a deep turquoise with brown antiqued effect at the rim, texture service, and subtly scalloped edge.  
The Le Cadeaux Antiqua Turquoise Collection melamine mimics the look of expensive ceramic ware but is constructed of high-quality, BPA-Free melamine.  
Le Cadeaux melamine is perfect for children and adults of all ages to use every day, for patio dining, pool-side, at the beach, picnics, on boats or yachts, RVs or in vacation homes.
Available in Four (4)-piece and Eight (8) piece set.  Each cereal bowl measures approximately 7-1/2" across in diameter.  
Like all melamine and plastic serving ware, not for use in microwaves. 
Buy it today and elevate your dining experience.  
Le Cadeaux Item 243ATQT.