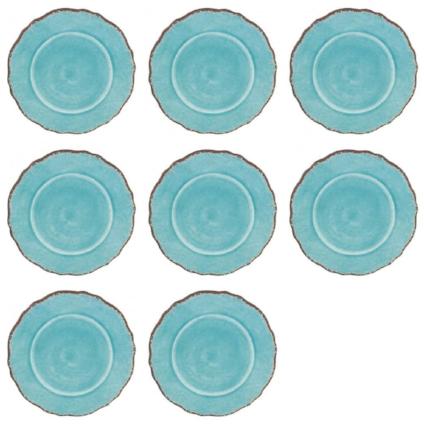 Le Cadeaux
Antiqua Turquoise Salad Plates Set 219ATQT
810266022797 Le Cadeaux Antiqua Turquoise Salad Plates 219ATQT
$76.00
The Le Cadeaux Antiqua Turquoise Salad Plates are exquisitely designed with a deep turquoise color, complemented by a beautifully antiqued brown rim effect. They feature a subtle scalloped edge and a textured surface, adding a touch of sophistication to any table setting. Crafted from high-quality, BPA-Free melamine, these plates mimic the look of expensive ceramic ware while offering durability and convenience.
Suitable for both children and adults, Le Cadeaux melamine is versatile for everyday use, whether it's for patio dining, pool-side gatherings, beach picnics, boat trips, or vacations. The collection is available in four-piece and eight-piece sets, with each salad plate measuring approximately 9" in diameter.
Please note that, like all melamine and plastic serving ware, these plates are not suitable for use in microwaves or ovens.
Le Cadeaux Item 219ATQT.