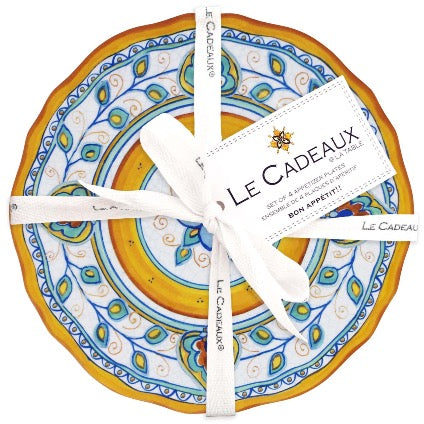 Le Cadeaux
Siena Appetizer Plates 097SIEN
Le Cadeaux Siena Appetizer Plates 097SIEN 810056672645
$42.00
Beautifully crafted Le Cadeaux Siena four (4)-piece appetizer plate set has the appearance and feel of ceramic, but are made of high-quality, BPA-Free melamine which can be used indoors or outdoors and is dishwasher safe.  
The Siena collection is bold and colorful floral palette in shades of yellow and blue. Each appetizer plate is 6-1/2" across in diameter and sold in a four (4)-piece set.   The set includes two plates with a yellow center and two with the floral center.
Like all melamine and plastic serving ware, not for use in microwaves or in the oven.  
These appetizer plates are wonderful for more than appetizers, use for bread, cut fruit, desserts and more.  Mix and match with coordinating Le Cadeaux Tiera collection, beverage tumblers, platters, serving bowls, plates, napkins and more.  

Le Cadeaux Item 097SIEN