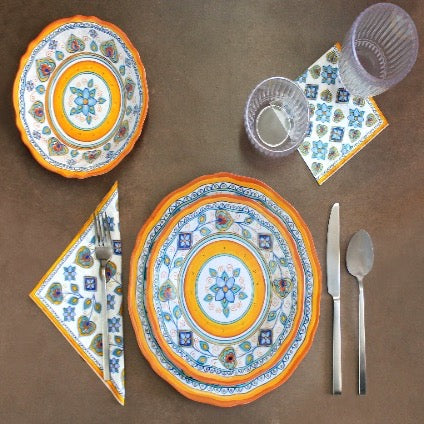 Le Cadeaux
Siena Dinnerware Set
Le Cadeaux Siena Dinner 227SIEN Dinner 229SIEN Salad Plates Cereal Bowls 243SIEN
$229.50
Beautifully crafted Le Cadeaux Siena dinnerware set has the appearance and feel of ceramic, but each piece is made of high-quality, BPA-Free melamine which can be used indoors or outdoors and is dishwasher safe.  
Like all melamine and plastic serving ware, not for use in microwaves or in the oven.
Our Siena melamine tableware by Le Cadeaux can be used everyday or while entertaining.  The Siena collection is bold and colorful floral palette in shades of yellow and blue.  
Available in 12-Piece and 18-Piece Sets. 
Each 12-Piece Set, Service for four (4) includes:
• Four (4) 11" dinner plates
• Four (4) 9" salad plates
• Four (4) 7.5" cereal bowls
Each 18-Piece Set, Service for six (6) includes:
• Six (6) 11" dinner plates
• Six (6) 9" salad plates
• Six (6) 7.5" cereal bowls
Bundled set including items 227SIEN dinner plate UPC 810056672676, 229SIEN salad plate UPC 810056672683, 243SIEN cereal bowl UPC 810056672690