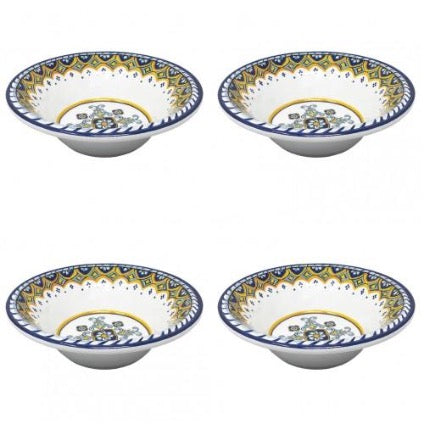 Le Cadeaux
Sorrento Cereal Bowls Set 240SOR
810266036039 240SOR Le Cadeaux Sorrento Cereal Bowls
$68.50
Beautiful Le Cadeaux Sorrento cereal bowls have a blue, yellow and white French Country floral print.
These bowls have the look of ceramic but are constructed of durable, high-quality BPA-Free melamine.  
Available in four (4)-piece and eight (8)-piece sets. Each bowl measures 7-1/2 inches across in diameter.  
The cereal bowls are dishwasher safe and BPA free.  Like all melamine and plastic serving ware, not for use in microwaves or in the oven.
Le Cadeaux Item 240SOR

Shop our elegant collection of coordinating Le Cadeaux Sorrento table linens, disposable napkins, soaps, tumblers, wine goblets, and pitchers.