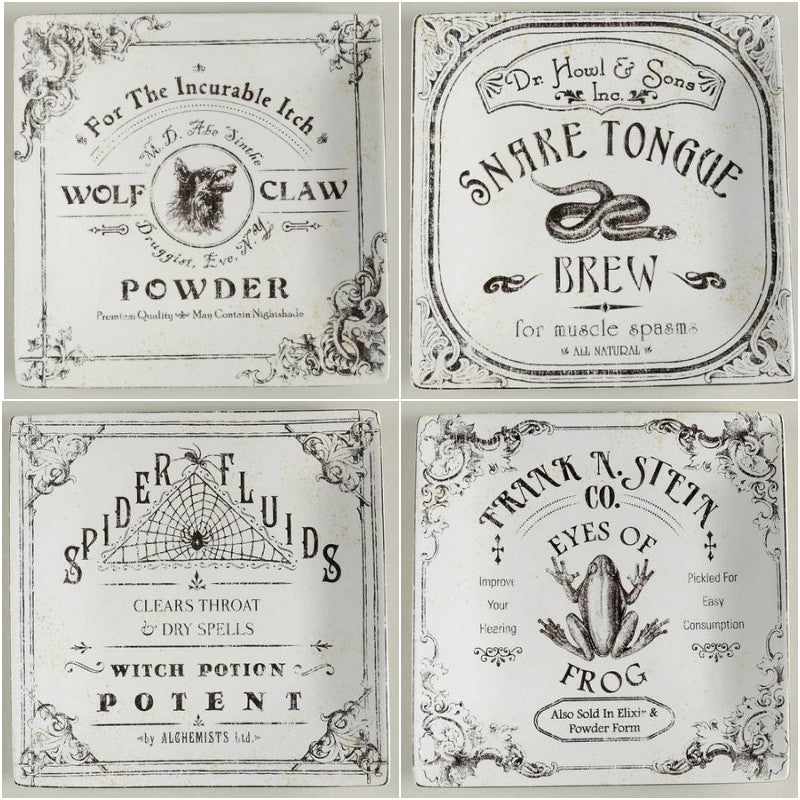 222 Fifth
222 Fifth Hallow Apothecary
222 Fifth Hallow Apothecary Ceramic Salad Plates Latte Mug Relish Tray Platter
$26.50
These fun pieces are not just for Halloween, add a bit of spooky flare to your dining table with the 222 Fifth Hallow Apothecary Collection.  
This playful collection featuring Eyes of Frog, Spider Fluids, Snake Tongue Brew, and Wolf Claw Powder Patterns.
All of the pieces are made of porcelain




Dishwasher and microwave safe




Made in Indonesia 
Available:
- Four (4)-Piece Salad Plates Set
.  Each plate measures 8" x 8" square.  Four plates: included are one (1) Wolf Claw Pattern, one (1) Snake Tongue, one (1) Spider Fluids and one (1) Eyes of Frog salad plate.  
-
Three (3)-Part Relish / Appetizer Tray
.  Three part tray measures approximately 16-1/2" wide by 7" length.  Platter features eyes of frog, spider fluids and snake tongue pattern.  
- Four (4)-Piece Latte Mugs Set.  Set of four (4) mugs, each mug measures approximately 3-7/8" wide x 6-1/8" tall.  Contains one (1) Snake Tongue mug, one (1) Spider Fluids mug, one (1) Wolf Claw mug and one (1) Eye of Frog latte mug.  
- Individual Latte Mugs.  3-7/8" wide x 6-1/8" tall.  Choose from Snake Tongue, Spider Fluids, Wolf Claw, Eye of Frog patterns.  
- Platter.
 Measures approximately 14" x 14".  
More about the 222 Fifth Apothecary Patterns:
Eyes of Frog Pattern
: Frank N Stein Eyes of Frog, Improve your Hearing, Pickled for Easy Consumption.  Also Sold in Elixir & Powder Form.  
Spider Fluids Pattern:
  Clear throat and Dry Spells.  Witch Potion Potent.  
Snake Tongue Brew Pattern: Dr. Howl & Sons Inc.  For muscle spasm, All natural.
Wolf Claw Powder.
  For the incurable Itch.  M.D. Abe Sinthe.  Druggist, Premium Quality, May Contain Nightshade