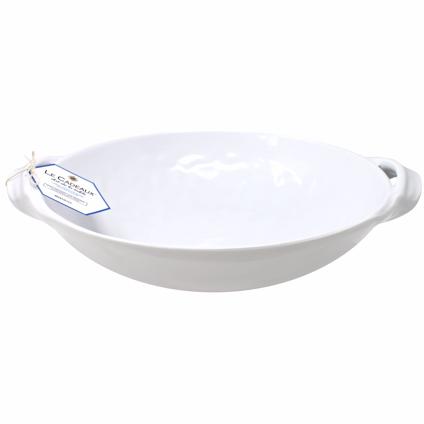 Le Cadeaux
Bianco Handled Serving Bowls
Le Cadeaux Bianco Handled Bowls 247BIA 810266035643 385BIA 810056671471
$36.50
Beautiful handled bowls that are for more than just serving salad.  
Beautiful and chic handled, large salad serving bowls are salads, appetizers, popcorn, cut fruit, chips, snacks, displaying lemons & limes +  more.  
Item 247BIA 13" Large Handled Bowl.  The oval shaped serving bowl measures 15" W across in diameter (with handles, 12-3/4" without) x 12-1/2 to 12-3/4" L x 3-1/4" D.  
Item 385BIA 9.25" Small Handled Bowl.  
Item 247BIA and 385BIA are deeper than 387BIA and 388BIA.  247BIA and 385BIA are more of a salad bowl where 387BIA and 388BIA are more of a plate with a lip.  Better for eating salad or pasta on.  
Has the look of expensive ceramic, but is made of high quality, BPA-free, light weight melamine.  Perfect for entertaining indoors, outdoors, poolside, or on a boat.  
The bowls are dishwasher safe but all melamine and plastic serving ware, not for use in microwaves or the oven.
Le Cadeaux Item 247BIA and 385BIA.