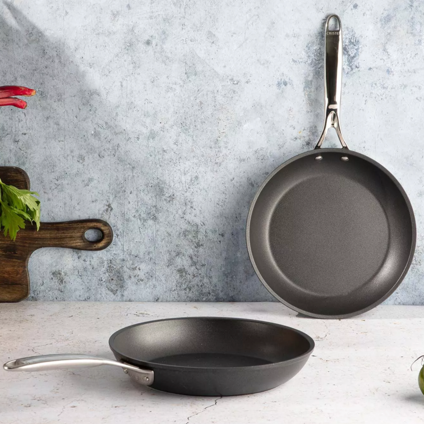 Cristel
Cristel Castel Pro Ultralu 8" & 9.5" Non-Stick Frying Pan Set
Cristel Castel Pro Ultralu 8" & 9.5" Non-Stick Frying Pan Set Made in France
$99.50 $180.00
Take your cooking to the next level and let your culinary dreams take flight thanks to the exquisite Cristel Castel Pro skillet fry pan set.
From the Castel Pro Ultralu Collection, every detail of the ergonomics has been carefully considered - from the pouring rim to interior graduations for extraordinary cooking.
The patented Ultralu® construction combines stainless steel durability with the lightness of anodized aluminum for a pleasant kitchen experience.
The handle – made of solid stainless-steel – stays cool for longer, reducing the danger of burns while the three-ply construction reinforced with anodized aluminum ensures even heating with no hotspots.
Feel free to enjoy gentle cooking techniques with Cristel Ultraplylight® technology that preserves vitamins, flavors and the original color as well as texture of the food.
The set includes one 8" fry pan and one 9.5" fry pan and is PFOA-free. It's dishwasher-safe, compatible with all range types and oven-safe