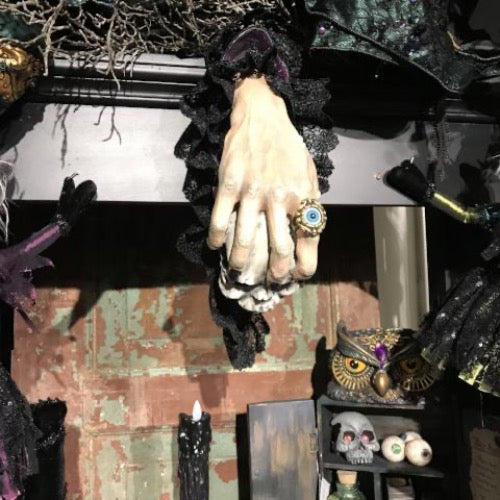 Katherine's Collection
Spellbound Hand & Skull Door Knocker 28-728659
810074122405 Katherine's Collection 28-728659 Halloween Hand and Skull Door Knocker
$99.50
When friends and family creep up to your door, make certain the first thing they see is your elegantly Spellbound, eerie hand and skull door knocker.
Designed from renowned artists at Katherine's Collection, part of the 2018 Spellbound Halloween.
Limited edition, Realistic, life-size hand is masterfully hand painted, then elaborately embellished with intricate ring, lace and skull detail.  
The knocker makes a victorian glam first impression for this Halloween knock-knock.
If putting a nail in your front door isn't an option, add it to a shelf, a wall or the entrance to your man cave.  
Piece measures approximately 12-1/4" L x 5" W x 4-1/2" D
Elaborate hand and skull door knocker, designed by Katherine's Collection
Large and highly decorated, for making a big impact
Easy to hang with the integrated keyhole hanger
Lasting construction of artist-quality resin
Arrives fully assembled
For covered outdoor or indoor use
Katherines Collection Item 28-728659.  UPC 810074122405