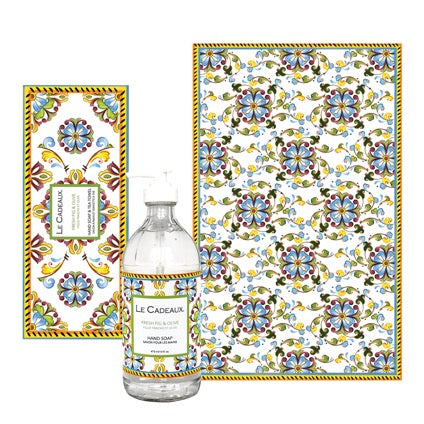 Le Cadeaux
Fig + Olive Hand Wash & Tea Towel CCGS-GBS-FG
Fig and Olive Hand Wash & Toscana Tea Towel Gift Set CCGS-GBS-FG 810056671495
$35.00
The Le Cadeaux Fig and Olive hand wash with coordinating Toscana cotton tea towel comes ready to gift in a beautiful gift box! This delicate fragrance blends notes of Mediterranean fig and soft olive blossom creating a warm and pleasing scent that adds a touch of luxury to your day.
The liquid hand soap is infused with essential oils, and are Paraben, Sulfate, Phthalate, Phosphate, Ammonia, and Chlorine Free.
No animal sourced ingredients.  Made in the USA.
Product includes Qty one (1) liquid hand wash with dimensions 2.5" wide x  8" tall and Qty one (1) cotton tea towel with dimensions 18" wide by 29" tall.
Le Cadeaux Item: CCGS-GBS-FG