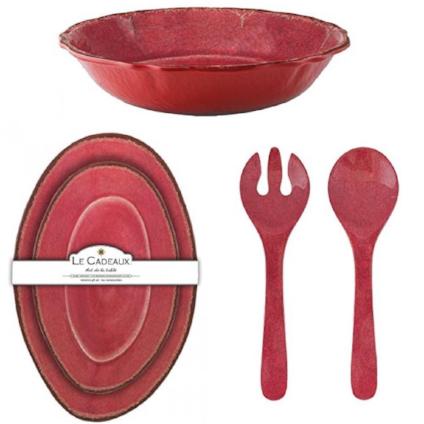 Le Cadeaux
Antiqua Red Melamine Five-Piece Hostess Set
Le Cadeaux Antiqua Red 305ATQR Salad Bowl 245ATQR Salad Server 121ATQR
$109.50
Pull together your BBQ, Sunday dinner or holiday party with the Le Cadeaux Antiqua Red Service Set.  
Beautiful Antiqua Red Salad Bowl, Salad Servers and Platters set has the look of sophisticated china but is made of the durability of high quality, BPA-Free, durable melamine.  
All the pieces are a deep red with veining effect on the surface and antiqued rim with subtle scalloping. 
Five Piece Set includes:
One (1) Platter 12-5/8" L x 9" W Oval platter

One (1) Platter 15-3/4" L x 11" W Oval Platter

One (1) 13-3/4" x 4" Deep Large Salad Bowl

One (2)-Piece 13" Salad Servers.  One (1) fork and one (1) spoon
These pieces can be used indoors or outdoors and are dishwasher safe.  Like all melamine and plastic serving ware, not for use in microwaves.

Shop our elegant collection of coordinating Le Cadeaux polycarbonate drinkware in tumblers, wine glasses, and pitchers.
 Bundled Item Set including Le Cadeaux items 245ATQR, 121ATQR, 305ATQR