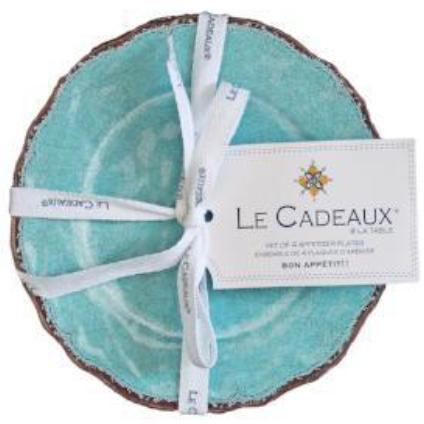 Le Cadeaux
Antiqua Turquoise Appetizer Plates 097ATQT
810266024913 097ATQT Le Cadeaux Antiqua Turquoise Appetizer Plates Set
$42.00
This beautiful turquoise four (4)-piece appetizer plates set has the look of sophisticated china, but is made of the durability of melamine.  
Beautiful set is a deep turquoise blue with gray antiqued effect at the rim, subtle scalloped edge, flecks and texture on the surface.
These pieces look like expensive ceramic ware, but are constructed of virtually indestructible melamine of the highest quality.
Due to its almost unbreakable construction, Le Cadeaux melamine dinnerware is perfect for patio dining, as well as for use on yachts, in vacation homes and for children's parties.
This dinnerware is dishwasher safe and BPA free.  Like all melamine and plastic serving ware, not for use in microwaves.

Also shop our elegant collection of coordinating Le Cadeaux polycarbonate drinkware in tumblers, wine glasses, and pitchers.