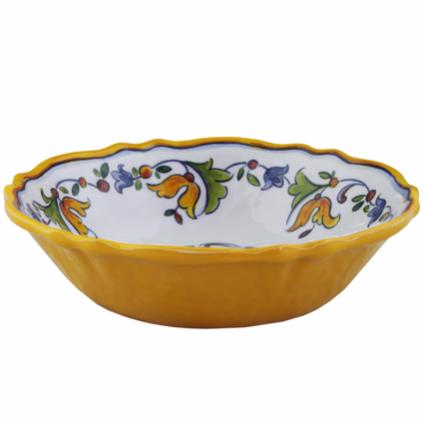 Le Cadeaux
Capri Cereal Bowls 243CAPR
Le Cadeaux Capri Cereal Bowls 243CAPR 810266029147 Rice Ice Cream Fruit
$76.00
Le Cadeaux Capri durable cereal bowls, look like they are made of ceramic, but are made of high-quality, BPA-Free melamine which can be used indoors or outdoors and is dishwasher safe.  
The Capri pattern is a delightful yellow, green, and blue floral pattern.  The backs are all solid yellow.
The cereal bowls are available in four (4)-piece and eight (8)-piece sets.  Each bowl is 7-1/2" across in diameter.   

Versatile, can be used for cut fruit, soup, salad, pasta, rice, ice cream and more.  
Like all melamine and plastic serving ware, not for use in microwaves or in the oven.  
Le Cadeaux item 243CAPR