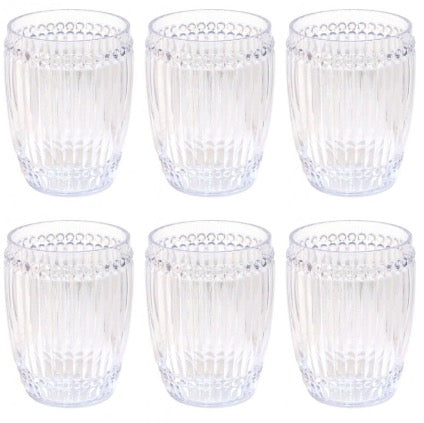 Le Cadeaux
Milano Tumblers
Milano Tumblers
$54.50
Elevate your dining experience and entertain like a professional with chic eye-catching tumblers designed that coordinate perfectly with all of Le Cadeaux's dinnerware or many dinnerware sets.  
Made of 100% durable, acrylic, these tumblers mimic the look of glassware but can be used everyday, to entertain, for bar set ups, poolside, at the beach, at picnics, on boats, in RVs, BBQs and more.
Perfect for children and adults of all ages.  
Designed in Italy & coordinates beautifully with Le Cadeaux Melamine dinnerware.   Pieces are dishwasher safe and shatter resistant.
The Milano collection is available in clear, teal, green and blue. We have a few remaining sets of berry which was retired in 2019 and yellow is available for a limited time.  
Sold in six (6)-piece sets:
Wine Goblets,

 each measures 7" Tall x 3" Wide

Small Tumblers,

 each measures 4-1/2" Tall x 3-1/4" Wide

Large Tumblers,

 each measures 6-1/2" Tall x 3-1/4" Wide
Not for use in the microwave or with hot liquids.
WARNING: California Proposition 65