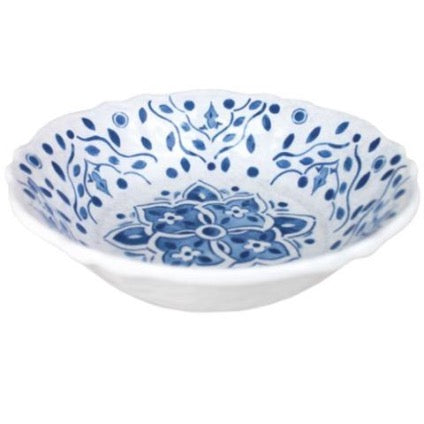 Le Cadeaux
Moroccan Blue Cereal Bowls 243MRCB
810266030723 243MRCB Le Cadeaux Moroccan Blue Cereal Bowls
$76.00
Use for more than cereal, these bowls are also great for ice cream, pasta, rice, salad and more.  
Beautiful, Le Cadeaux, Moroccan Blue, dark blue and white Spanish / Moorish inspired tile print has the look of sophisticated china but is made of the durability of melamine.  
The backs are all solid white.
These pieces look like expensive ceramics but are constructed of virtually indestructible, thick melamine of the highest quality.
Due to its almost unbreakable construction, Le Cadeaux melamine dinnerware is perfect for children or adults, everyday dining, dining outdoors, on patios, beaches, picnics, BBQs, for use on boats or yachts, RVs or in vacation homes.
This dinnerware is dishwasher safe and BPA free.  Like all melamine and plastic serving ware, not for use in microwaves.
Available in either Four (4)-Piece or Eight (8)-Piece Sets.  Each bowl measures 7-1/2" across. 
Le Cadeaux Item 243MRCB