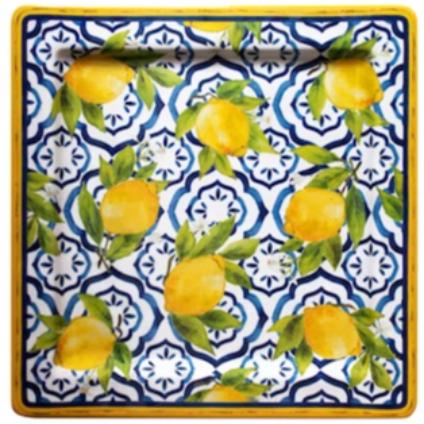 Le Cadeaux
Palermo Square Plate / Platter 202PAL
810266034714 Le Cadeaux Palermo Lemons 202PAL 11" Square Dinner Plates
$28.50
Beautiful Le Cadeaux Palermo square dinner plates set have the look of hand painted Italian / French ceramics, but is made of durable, high-quality, BPA-Free melamine.
Square dinner plates are 11 x 11 in.  
Versatile square platter is versatile and can be used for serving platters or has a square style dinner plate.  
The plates are dishwasher safe and like all melamine and plastic serving ware, not for use in microwaves.
Le Cadeaux item 202PAL
Sold Individually, in four (4)-piece and eight (8)-piece sets.  
Shop our elegant collection of Le Cadeaux Palermo salad plates, patisserie trays, biscuit trays, baguette trays, salad bowls, napkins, placemats, tumblers, wine glasses, and pitchers.