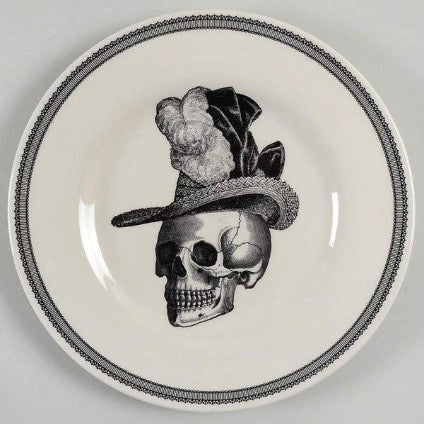 Victorian English Pottery
Pompadour Hat Lace Skull
The Victorian English Pottery Gentleman Skeleton Top Hat Dinner Plates
$16.50
Dine with Pompadour, the Skull collection with a bit of elegance and brings a royally dead charm to any home.   
These pieces feature a skull with a regal hat.  There is a beautiful black banding around the rim.   An Edward Challinor design, each piece is hand thrown and there are little differences with bits of imperfection.  
Sold Individually and in four (4)-piece sets.
Available:
Salad Plates.  Each plate is 8-1/2 inches in diameter.  

Dinner Plates.  Each plate is 11 inches diameter.  

Cereal Bowls.  Each bowl is 7-1/2 x 2-1/4 inches deep.  
Made of fine English Porcelain Pottery. 
The pieces are microwave and dishwasher safe.  Not for use in the oven. 
Mix and match with other pieces to create a unique and spooky dining experience.