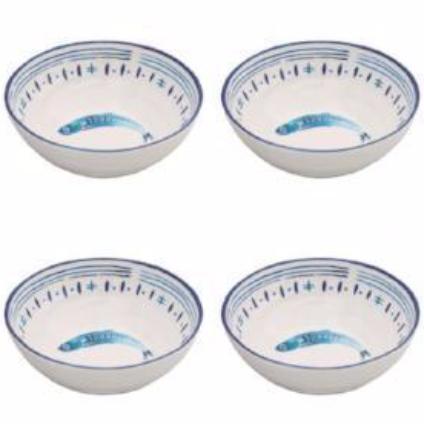 Le Cadeaux
Santorini Cereal Bowls 253SAN
810266030655 Le Cadeaux Santorini Soup Cereal Bowls 253SAN
$68.50
Greek inspired cereal bowls with chic coastal Mediterranean fish design in shades of blue against a white background.  
Functional and versatile bowls which are perfect for soup, cereal, salad, cut fruit, rice, pasta, cooking and more.  
Made of durable melamine, white bowls are perfect for boats, yachts, dining poolside, in the backyard or on the patio.  Great for lake houses, RVs, picnics or every day dining.  
Available in four (4)-piece and eight (8)-piece sets.  Each cereal bowl measures approximately 7-1/2" across in diameter.  
These bowls are dishwasher safe, but like all melamine and plastic bowls they are not for use in the oven or in the microwave.  
Le Cadeaux Item 253SAN